Blog Posts - Vitacoco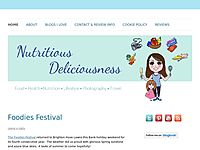 I've been making a few raw desserts and snacks lately, trying to find the perfect crust and small morsels of healthy snacks to nibble on when working. A cup of tea (nearly) always needs to be accompanied by something and a healthy little t...

So I have this kind of active imagination.Since I have a picture, I know I did not imagine this:Lionhead Rabbit Convention: let the judging beginNo, I'm not going to explain this photo. You have to interpret it on your own. Just know that it took a f...

spare a square, Mr. B?Test results are inconclusive. But Mario Lopez has aerobics instructor levels of spandex photos floating around on the internets, just waitin' to be downloaded by some retro, '80s-loving pervert/blogger with perpetual boredom/no...