Blog Posts - Who's The Daddy The sun's finally shining and summer has belatedly arrived, so there's no reason for new parents to be stuck indoors. For the latest Who's The Daddy, new dad Oli Reed…...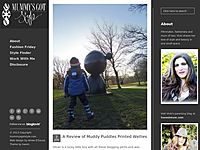 Welcome to the latest Who's The Daddy. This month's guest post is from one of my favourite bloggers, Richard Hobbs of Man Stays Home. This poignant and powerful piece explores separation anxiety experienced by divorcee fathers. It's Who's The Daddy time and for this latest guest post, I'm honoured to introduce the brilliant Peter Fragola from Chronicles of a New Dad. As well as blogging, Peter is the Assistant Principal at an Elementary School (aged 3-10)... It's time for my marvellous monthly instalment of Who's The Daddy - a series of guest posts from the uber talented Daddy bloggers out there, so many of whom I now count as great mates! Read more... This moth's Who's the Daddy features Al Ferguson, the founder of The Dad Network on the similarities between a parent and their child... Read more... How To Be A Dad? When I first saw that positive pregnancy test, a rush of joy came over me - this was what we'd talked about, planned and wanted for the last year, but over the next few days, the nagging pangs of self doubt crept over me. R... Hey from a little bit jetlagged me after an absolute jammin' time in Jamaica (I literally never wanted to come home)-weep! Read more... It's that time again, my monthly feature Who's the Daddy, shining a light on the best Daddy bloggers the UK and heck, even the world has to offer! Here the brilliantly funny Dave of DADventurer talks wedding tips with a baby- Read more... Welcome back to #Brilliantblogposts, I am literally BOWLED over by the posts linked up last week with a whopping ....-WOW! This week I'm linking up the brilliant and hilarious Dave of DADventurer's post on Tips For Surviving A Wedding With A Baby. It is now time for the latest instalment in my Who's the Daddy series. I started Who's the Daddy a few weeks ago to showcase some of the brilliant (but often overlooked) dad bloggers in the UK and further afield. I am follow a lot of dad blogs... It's that time again 'Who's the Daddy', my monthly feature where a Daddy blogger guest posts on my blog, sharing his voice and view on the world right now. I've been utterly overwhelmed by the response from the incredible Daddy blogging community... Welcome to my new monthly feature-Who's The Daddy!A huge fan of blogs penned by fathers, I wanted to showcase the rich, insightful and damn right captivating male bloggers who share their point of view on all things parenting and beyond, right here o...