Blog Posts - Work And Life Balance
Three lofty goals "An investment in knowledge pays the best interest." -Benjamin Franklin Relationship MBA pursues to bring together business and relationships in a way that creates true value innovation. If you came to find ideas how to improve...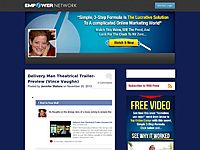 A Crazy Corporate Commuter on the Advantages of Starting a Business-What exactly is a "Crazy Corporate Commuter?"It is someone who gets up before sunrise and drives to work Monday through Friday, in the 4th largest city in America. With this voluntar...