Blog Posts - Work Group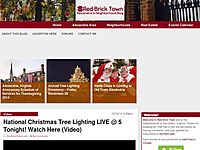 The next Alexandria, Virginia Potomac Yard Metrorail Implementation Work Group (PYMIG) meeting is Thursday, January 29 @ 7:00 PM. Details...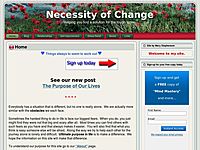 I was sitting here thinking about what really is team work?     How often in the workplace they cried for team work?  Yet somehow it always seem lopsided by those that advocated it. ... [[ This is a content summary only. Visit my...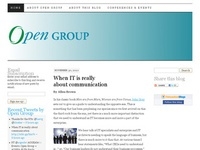 By Dave Lounsbury, The Open Group The Open Group is looking toward the future – what will happen in the next five to ten years? Those who know us think of The Open Group as being all about consensus, creating … Continue reading →...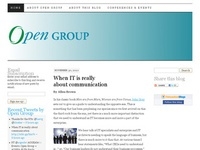 As the consumerization of technology continues to grow and converge, our way of constructing business models and systems need to evolve as well. We need to let data drive the business process, and incorporate intelligent machines like Watson into our...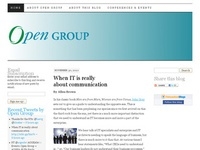 The big bang that started The Open Group Conference in Newport Beach was, appropriately, a presentation related to astronomy. Chris Gerty gave a keynote on Big Data at NASA, where he is Deputy Program Manager of the Open Innovation Program. And that...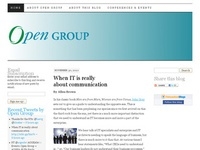 We're excited to announce the formation of a new forum, specifically designed to advance The Open Group vision of Boundaryless Information Flow™ by helping enterprises to take advantage of these convergent technologies. This will be accomplished...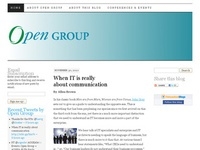 How should we use Cloud? This is the key question at the start of 2013. The Open Group® conferences in recent years have thrown light on, "What is Cloud?" and, "Should we use Cloud?" It is time to move on. Continue reading →...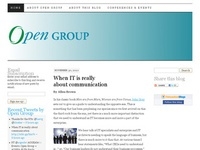 In the early days of aviation, when instruments were unreliable or non-existent, pilots often had to make judgments by instinct. This was known as "flying by the seat of your pants." It was exciting, but error prone, and accidents were frequent.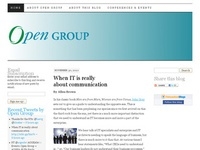 As we wrap up 2012, we couldn't help but look towards what is to come in 2013 for The Open Group and the industries we're a part of. Without further ado, here they are... Continue reading →...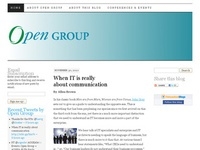 There's been a resurgent role for service-oriented architecture (SOA) as a practical and relevant ingredient for effective design and use of Cloud, mobile, and big-data technologies. To find out why, The Open Group recently gathered an international...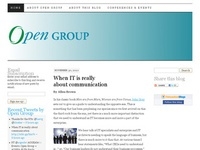 The Open Group SOA Governance Framework is now an International Standard, having passed its six month ratification vote in ISO and IEC. According to Gartner, effective governance is a key success factor for Service-Oriented Architecture (SOA) solutio...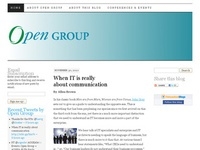 HP Distinguished Technologist E.G. Nadhan outlines factors that define the right way to use Cloud Computing for enterprise transformation. Continue reading →...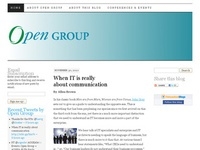 By Chris Harding, The Open Group  This week I have been at The Open Group conference in San Francisco. The theme was Enterprise Transformation which, in simple terms means changing how your business works to take advantage of the latest … Cont...