George_Hoenig Profile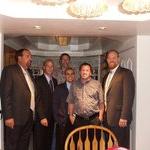 George Hoenig
Join Date:
2011-09-26
Blogs Owned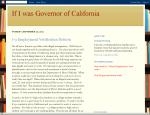 Fed up with the way the politicians run our government, hold us hostage, our voice is never heard,.. always asking us to pay for things that we have no control over, elected officials only after their.. own agenda.
Other Tags: politics, government, california, governor, california legislation
Latest Blog Posts
Vehicle Inspections

on Sep 29, 2011

I was at a shopping mall the other day and when I went to the parking lot, I was amazed to find that another car had parked into / on my car. After waiting an hour for the driver to return, I called the local sheriff (Norwalk Division) to repor...
I-9 Employment Verification Reform

on Sep 20, 2011

We all know there is a problem with illegal immigration. Well let's put our heads together and do something about it. It's a fact that about 20% of employers in the state of California either pay their employees under the table, or hi...
Welfare Reform

on Sep 15, 2011

Due to the high numbers of welfare fraud and abuse - this is a few things that could improve the system. At the local check cashing place, I have seen with my own eyes on welfare day a great amount of money being sent to Mexico. The welfa...
Favorite Blogs (4)