emilyanncr Profile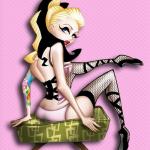 Emily
Join Date:
2013-07-03
About
My name is Emily Ann and I am the author of the site http://lovinthe480.com. The site chronicles my experiences as a single 30 year old woman looking for love in the Grand Canyon State. Lovin the 480 also provides information and advice to both men and women to help them in their journey to finding "the one", as well.

I started Lovin' the 480 because I have always been fascinated about the sociological and psychological differences between men and women, and the impact these differences have on sex, love, and relationships.

My blog Lovin the 480, allows me the opportunity to critically analyze and discuss these dynamics with my readers, and provide helpful information and insight into the psyche of the opposite sex.

Check it out at http://lovinthe480.com. Reader participation is always appreciated, as is your support!!

Blogs Owned