mmbennetts Profile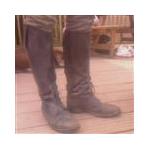 M.M. Bennetts
Join Date:
2009-10-01
About
History, poetry, music and horses probably sums it up.

For some twenty years, I was a book critic for the Pulitzer Prize-winning newspaper, The Christian Science Monitor, specialising in history and fiction.

In researching the period of my novels, I've attended scholarly conferences marking the bicentennial of Trafalgar; studied the architecture, furnishings and art of the period; and read upwards of 150 relevant histories and biographies, as well as the eyewitness accounts of Prime Minister Perceval's assassination found in the newspapers and magazines of May and June 1812 and other world-shaking events.

An avid cross country rider, I'm also--so they tell me--an accomplished pianist and accompanist, having regularly performed music of the period of my novels.


Blogs Owned