paperlessworld Profile
Paperless World
Join Date:
2009-11-28
About
I am in the excavating business and these are views from a resident of Minneapolis-St. Paul (in the United States) where seven or eight years ago it looked like we were all going to end up paperless, with no morning newspaper to read, as the media companies folded. What would we do, and what would the effect be, in the dominant culture on human liberty? When the superficial skin was shed?

To be fair, since so much of the content is directed at theological issues, I should state that my blood is Irish. And as night followed day, I was Catholic. It was William Faulkner who wrote that the past is never dead. It is not even past.

Faulkner had grown up in the American South, after the Civil War, no longer in the dominant culture. When everything that was believed in was being wiped out. His writing tried to reconcile a few things. Like what it meant to be a Southern when you had seemingly lost everything. When you wake up in the morning. Trying to figure out where you were. Trying to figure out where you were going. Trying to figure out what the music all meant, if you were gonna survive the day. The sounds. Of the world. Of the people around you. Of the past. Of the future. The old songs. The traditional ones. The new.

It was a world that had never looked at the morality of slavery, which had existed since the time of Abraham, and later Moses. And it was a world, with the dead tree format, which never had had a Truth and Reconciliation Commission here to examine in the present the deep roots of the past — to examine pride and vainglory which had been contributing factors to all of the decay and destruction. So, no, you will not find the author's name here.
Blogs Owned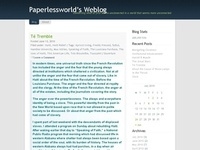 connecting what at first seems unconnected in a world that seems more unconnected