edwarddevalle Profile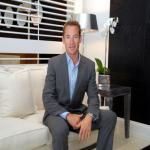 Edward
Join Date:
2010-12-28
About
Edward de Valle
President/CEO of AMG Worldwide

Edward de Valle has over 15 years of experience in the communications industry which includes: marketing, sales, media buying and public relations. His career began at General Electric as the Marketing Manager for GE Power Systems Latin America. He then transitioned to the publishing industry where he worked at Newsweek Latin America as the Director of Sales. Through this opportunity, Mr. de Valle established relationships and expertise as a senior executive with several top-tier publications in the United States, US Hispanic and Latin American markets including: Vogue, Glamour, Discover, Men's Fitness, Prevention, Teen and Architectural Digest. The combined experience enabled Edward to create a media buying system and platform for additional media activities to clients throughout several continents.

From that passion emerged AMG Worldwide (AMGW), a full-service communications and integrated marketing agency. Edward de Valle established AMG Worldwide (AMGW) in 2001 with the purpose of adding something truly unique to the business world and is proudly celebrating the company's 10-year anniversary this April, 2011. His global perspective contributed to his desire of providing original marketing strategies to real estate developers, hoteliers, luxury brands and consumer goods on a worldwide scale. He realized his strategies were not only desired but necessary and began positioning AMGW among the few agencies servicing these business arenas at the time. Over the last several years the agency has serviced several industries and well-known clients such as: The Trump Organization, Ritz-Carlton, St. Regis, Mandarin Oriental, Gansevoort, Cap Cana, Versace Home, Custo Barcelona, Roberto Cavalli Vodka, Phillippe Stark, Maybelline Latin American, Lowes, W Hotels, Helly Hansen and Timberland.

Currently Mr. de Valle oversees all affiliate partnership offices outside of the Domestic United States, manages the day-to-day operations taking place at AMGW's Miami-based headquarters and focuses on the most important objective of all—the clients' return on investment for marketing dollars spent. Edward combined his experience in media with his knowledge of global branding to offer something distinct and lasting for his clients with the primary goals of helping clients increase their bottom line, raise awareness and develop a marketing mix that yields maximum results. In turn, AMG Worldwide quickly became the premiere media and public relations agency for developers, hoteliers, luxury brands and consumer goods around the world. The agency has won several awards including: Number One Miami Media Buying Agency by Ad Week locally, and South Florida Business Journal's 6th Most Influential Public Relations Agency in Miami.

Edward's formal education includes a B.A. in Business Management and an M.B.A. in Business Professional Management. He is fluent in four languages including Spanish, Italian and Portuguese; and his hobbies include horseback riding, personal fitness, botany, animals and above all else, travel related activities. Currently, Mr. de Valle resides between his two residences in Miami, FL and Casa de Campo, Dominican Republic.

Through Mr. de Valle's innovative marketing, out-of-the-box thinking and strategic alliances, in nearly ten years AMG Worldwide has become the fastest growing media relations firm in the world. AMG Worldwide now executes marketing strategies throughout all seven continents in the world. Over the next year, AMGW will focus on acquiring and servicing existing clients in Miami, New York, Caribe, and Latin America for quick, effective and efficient expansion of the company's brand portfolio. The primary goal for AMGW is to perfect its' current structure in this ever-changing economy and begin a solid, but organic growth for expansion through and beyond 2011.

Headquartered in Miami, the agency's portfolio is a direct reflection of the success they have experienced over the years. AMG Worldwide has key regional offices in Lexington, Santo Domingo and Casa de Campo, with alliance offices in New York City, Panama City, Dubai, Madrid and Florence. For additional information visit www.amgwagency.com

Blogs Owned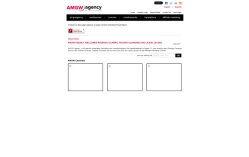 Edward de Valle II CEO of amgwagency a top advertising and public relations firm based in Miami with.. multiple offices around the world was seen on the run way at celebrity designer Kiki Hamann Fashion.. show on South Beach
Other Tags: edward, devalle, amgwagency, kiki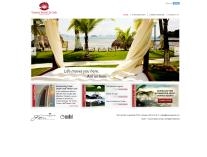 Newland International Properties Corp is pleased to announce plans for an exclusive Beach Club to be.. located on the stunning Isla Viveros in the Pearl Islands Archipelago.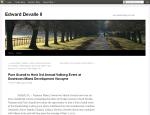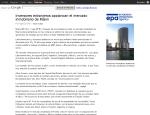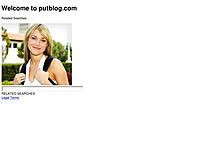 Internet lingo is much more robust and at times, quite confusing. But it is 2011 and many companies.. and people still don't know how to use the Internet to grow their business and knowing all that.. language is important.
Other Tags: computer, buisness, amgwagency.com, Edward De Valle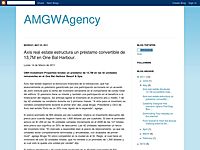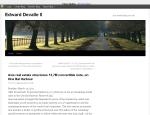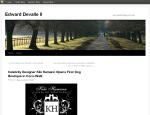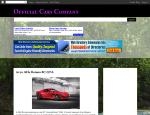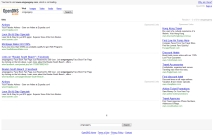 On April 12th, 2011 AMGWagency will celebrate ten years of business as one of Miami's leading.. advertising and public relations agencies specialized in fashion, hospitality, real estate, banking.. and consumer goods. .
Other Tags: edward, devalle, AMGWAGENCY, MEDIA, CREATIVE