sammiebbzxo Profile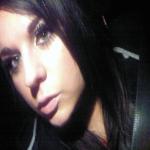 sammie
Join Date:
2011-01-15
About

Im sammie and im 19 and becoming 20 this year (scary) :-|

iam single and wanting to find my special boy who wil treat me right out there.

im mad about makeup! if you didnt no ;) started getting into makeup when i was in about year 8 fulla spots and didnt have a clue to *really* cover them and just from that point ive been doing researching and more tips and ways to do things.

Ive started this blog mainly for a hobby for me to enjoy and maybe for you to enjoy to? and have a laugh or too :)

im a random little sausage and will talk about anythink on my mind hence *why you see weird stuff on my blog* haha

annd i just love love to make people happy or make em laugh and feel abit better in them self when they come up to me.


Blogs Owned
a beatuy blog with all of life rambles + hauls :)