cphmetrics Profile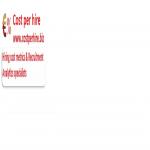 Cost per hire HR Metrics
Join Date:
2011-02-16
About
Professional summary

A very seasoned Human Resource Management Leader, Global Talent Acquisition / Staffing Head, HR Analytics, HR Operations, Recruiting business controls operational excellence expert with 17 plus years of extensive experience in Human Capital Management, Talent Acquisition, Recruiting process management, Leadership, HR – Operations, Strategy, Administration, Infrastructure, Reporting, People-Process-Technologies, HR Software Business applications,SAP HCM,HRIS, ERP, MIS, Recruiting Software Applications, Applicant tracking systems, E- Recruitment, CRM etc and combining Functional, Technology, and Management Leadership, excellent communication skills, delegation and commitment towards higher excellence in the assigned job responsibilities and functions.

Current Activity: Founder & CEO of Cost per hire www.costperhire.biz

* Cost per hire is industry's first online solution exclusively focusing on hiring cost calculation, recruitment metrics, dashboard & reporting analytics solutions.

* Cost per hire is poised to become world number 1 in online hiring cost calculation metrics & Advanced reporting analytics solutions.

* Cost per hire recruitment analytics analyzer engine computes multi dimensional recruitment process/business controls data, recruitment effectiveness data,quality of hire metrics data and provides key result metrics for bench marking and hiring competitiveness.

* The online solution comes with excellent calculation analytics, Numerical functions, multivariate statistical analytics and recruitment reporting dashboard that will help the Hiring professionals to take efficient and effective decisions.

* With robust reporting analytics, hiring executives will get a thorough insight into the entire cost per hire mechanics from micro to macro level components of recruitment with drill down reporting functions.
Specialties

hiring cost calculation,recruitment metrics,calculation, reporting, analytics,recruitment cost,recruitment SWOT, Man power utilization matrix, recruitment process controls,business controls,cost per hire drill down metrics,cost per hire data,hiring trend,expense analytics,staffing function framework,quality of hire metrics data,QOH,Recruitment effectiveness data and global cost per hire industry metrics competitive analysis.

Blogs Owned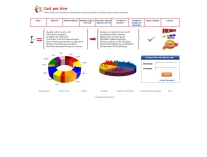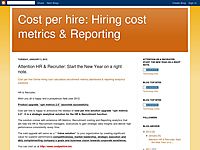 Product upgrade "cph metrics 2.0" launched successfully: It is a strategic analytical.. solution for the HR & Recruitment function You can visit us at http://www.costperhire.biz
Other Tags: HR, Metrics, KPI, Cost per hire, Recruitment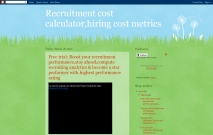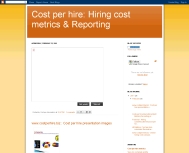 Free trial - Recruiting,hiring cost,HR Metrics,Cost per hire calculator,Recruitment Report,Quality.. of hire,hiring process controls,SWOT - Vist us at www.costperhire.biz
Other Tags: Hiring cost, Recruitment, recruiting kpi, staffing kra, cost per hire