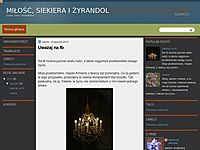 This blog tells story about love, axe and chandelier. It's untypical love story.

Like it
Owner: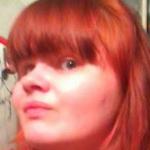 NataliaOrlika
Listed in: Literature
Language: Other

Site Statistics
Unique Visitors this Week:
0
Unique Visitors this Month:
0
Total Unique Visitors:
134

Latest Blog Posts for Love-axe-chandelier
PorażkaPo dziś dzień nie rozumiem, co takiego zobaczyłam w Armandzie. To nie był typ faceta, którego kobiety rozchwytują, wręcz przeciwnie: uciekają gdzie pieprz rośnie albo i dalej. Przed Armandem uciekał nawet pies sąsiada, biedne stworzenie be...
Uważaj na fbNa fb można poznać wielu ludzi, a także najgorsze przekleństwo swego życia.Moje przekleństwo, niejaki Armand, z twarzy był przeciętny. Co ja gadam: w jego przypadku: przeciętny to niemal komplement! Był brzydki. Tak paskudny, że ja, Vale...
ValerieWitaj, jestem Valerie, a to moja historia. Historia wielkiej, nie do końca spełnionej miłości, zakrawawionej siekiery i flaków na żyrandolu. Jestem mordeczynią. Przed chwilą skończyłam mordować Armanda- mężczyznę, którego, nawiasem mó...