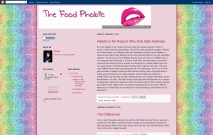 Site Statistics
Unique Visitors this Week:
1
Unique Visitors this Month:
0
Total Unique Visitors:
43

Latest Blog Posts for The Food Phobic
Aladdin is the Reason Why Girls Date AssholesSo in the depths of my recent sickness I have had ample amounts of time to just lay in bed and think about things. One of the most prominent thoughts I had led me to think about my childhood and how I absolutely loved the movie Al...
The DifferencesI am so tired of people looking at me and the first thing that they think is anorexia. I would never ever define myself as anorexic under any circumstances because of one major thing. When I look in the mirror I don't see fat, I see skin and bon...